1. The most loyal cricket fans from both the countries pose together.
This picture is proof that Pakistan and India are really just one! In the picture, is Sudhir Kumar Gautam and Chaudhry Abdul Jalil, two loyal fans of Cricket.
2. Players of both the sides spent time together after Champions Trophy final that Pakistan won.
Even ICC couldn't resist sharing it on twitter!
#SpiritOfCricket #CT17 #BestOf2017 pic.twitter.com/C9IPjaehFR

— ICC (@ICC) December 7, 2017
3. Virat Kohli made a remarkable speech for Pakistan after they lost and appreciated everything they did.
One can see in this Video that Virat means well! He said some really warm words for Pakistan.
4. Mohammad Hafeez said the sweetest words about 'The Wall' Rahul Dravid.
Speaking of Sweet words, Pakistan's Mohammad Hafeez extended warm wishes to Rahul Dravid. The two bumped into each other on a flight to New Zealand, and Hafeez tweeted:
Met with a man called THE WALL in cricket RAHUL bhai @Im_Dravid he is a great human being always there to talk about cricket & helping u out , honoured to play with him in the Feild & always pleasure to meet U , stay blessed pic.twitter.com/vCyDwM34YY

— Mohammad Hafeez (@MHafeez22) December 28, 2017
5. Virat Kohli gifted his bat to Mohammad Amir.
In yet another act of friendship, Virat Kohli gifted his signed bat to Mohammad Amir during one of the practice sessions at Eden Gardens just before they were going to compete against each other in world T20 of 2016. 
6. Amir saying that Virat Kohli is the 'best batsman in the world'.
Admiration was mutual and it was reflected in this tweet by Amir:
Virat kohli https://t.co/MzcRQfBigg

— Mohammad Amir (@iamamirofficial) July 16, 2017
7. Virender Sehwag lent a helping hand and lifted injured Shoaib Akhtar off the ground.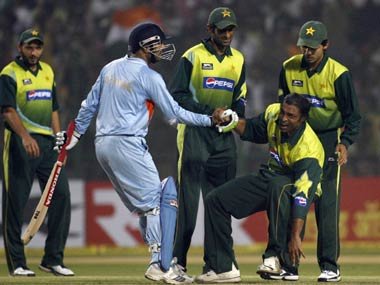 A straight drive from Sachin Tendulkar hit Akhtar on the ankle and he lost his balance, during a match in 2015. Sehwag immediately got up and helped him get off the ground. There is no animosity on the ground, apart from being just opponents.
8. Virender Sehwag also shut people up who were criticizing Sarfaraz Ahmed for not being good at English.
"That's not his job"
Criticizing Sarfaraz for not speaking English is insane.His job is to play&he has done brilliantly 2 take Pak in finals #StopColonialMindset

— Virender Sehwag (@virendersehwag) June 17, 2017
9. Present and former Indian cricketers  bid adieu to Misbah ul Haq and Younis Khan and it was beautiful!
Was solid grit from the West Indies. Test Cricket at its best. Brilliant effort from Chase but Misbah, Younis get a great farewell gift.

— Mohammad Kaif (@MohammadKaif) May 15, 2017
Two very likeable people & highly accomplished batsmen. Thank you Misbah & Younis for all the memories. #MisYou

— Sanjay Manjrekar (@sanjaymanjrekar) May 15, 2017
End of an era in Pakistan cricket…Misbah and Younis leaving a void that can't be filled for a long time. Warm wishes for the 2nd innings!!

— Aakash Chopra (@cricketaakash) May 13, 2017
This was incredibly heart-warming and beautiful. Hats off guys!
10. Team India sent a signed shirt to Shahid Afridi after his retirement.
Virat Kohli's shirt, signed by Indian team, for Shahid Afridi, with a message "always a pleasure playing against you." pic.twitter.com/KexlCjTNeZ

— Faizan Lakhani (@faizanlakhani) April 15, 2017
"Always a pleasure playing against you" said the shirt. India and Pakistan share a bond. Sure, there are differences, but there's friendship too, and one can't keep ignoring this. These two countries may fight all the time. There's wars, but they sure do bond over cricket.
Keep going!
Follow InfectiousFeed for more news and articles like this.